TobyMac Announces The 2023 Hits Deep Tour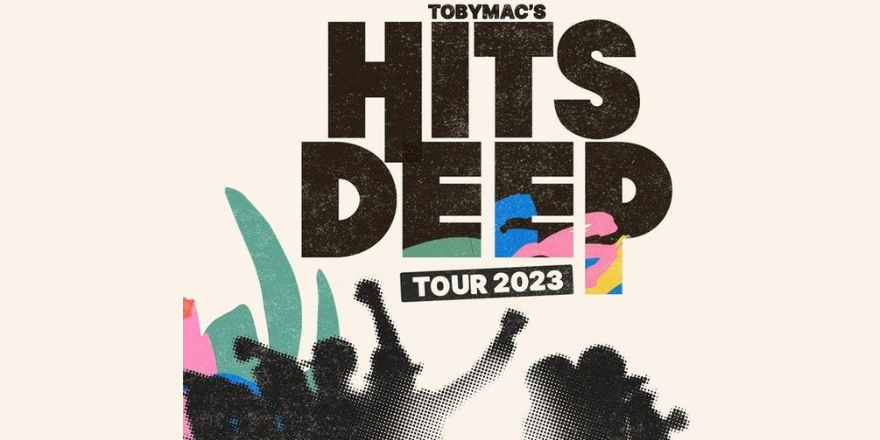 NASHVILLE, TENN. -- Multi-Platinum-selling artist TobyMac has officially rolled out the itinerary and artist lineup for the 2023 TobyMac Hits Deep Tour. In addition to performances by TobyMac and the DiverseCity band, artist support will come from CROWDER, Cochren & Co., Tasha Layton, Jon Reddick, and Terrian.
The annual arena tour encompasses 30 dates beginning on January 26th in Pensacola, Florida, and finishing up March 31st in San Antonio, Texas.
Fans will hear TobyMac's hits as well as new songs from his recent release LIFE AFTER DEATH
TobyMac Hits Deep Tour Dates
1.26 Pensacola, FL
1.27 Huntsville, AL
1.28 Greensboro, NC
2.02 Jacksonville, FL
2.03 Orlando, FL
2.04 Estero, FL
2.09 N. Little Rock, AR
2.10 Grand Prairie, TX
2.17 Birmingham, AL
2.18 Duluth, GA
2.19 Nashville, TN
2.23 Lexington, KY
2.24 Fairfax, VA
2.25 Fairfax, VA
2.26 Norfolk, VA
3.02 Toledo, OH
3.03 Moline, IL
3.04 Hoffman Estates, IL
3.05 Grand Rapids, MI
3.09 Lafayette, LA
3.11 Cedar Park, TX
3.19 Indianapolis, IN
3.20 Dayton, OH
3.25 Tulsa, OK
3.26 Lubbock, TX
3.28 Tucson, AZ
3.29 El Paso, TX
3.31 San Antonio, TX