Tauren Wells Announces Massive Spring 2023 'Joy in the Morning Tour'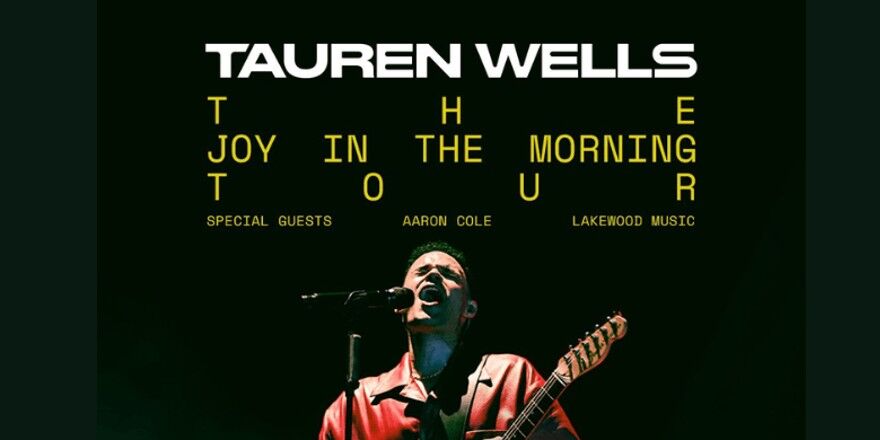 Ten-time GRAMMY® nominee Tauren Wells announced his Spring 2023 headlining "Joy In The Morning Tour," promoting his most recent album by the same name.
Kicking off the 19-city tour on January 26th, 2023, the national run will hit cities across the Southeast, Eastern Seaboard, New England, Midwest, Southwest and West Coast. Special guests Aaron Cole and Lakewood Music will support on all dates. This spring leg continues Well's third headline tour which started in Fall 2022 and follows last year's sold-out, 23-city run.
Most recently, Wells delivered the national anthem at the Detroit Lions' 83rd annual Thanksgiving Day Classic game against the Buffalo Bills. He also welcomed the holiday season with the release of his single "Merry Christmas, Happy Holidays," a reimagination of the much-loved *NSYNC classic. Recently, Wells teamed up with chart-topping country artist Jimmie Allen and GRAMMY®-winning R&B/gospel artist Erica Campbell to record infectious new versions of his track "Up."
Joy In The Morning is Wells' third solo album and first for Capitol Records/CCMG. He celebrated its release with appearances on "Fox & Friends" and "Good Morning America". Earlier, Wells returned to "Good Morning America" to perform "Up."
TAUREN WELLS – JOY IN THE MORNING TOUR – SPRING 2023
January 26 – Fort Lauderdale, FL – The Parker—Lillian S. Wells Hall **
March 2 – Birmingham, AL – Alabama Theatre **
March 4 – Evansville, IN – Aiken Theatre in The Centre**
March 5 – Cincinnati, OH – Taft Theatre
March 9 – Atlanta, GA – The Tabernacle **
March 10 – Indianapolis, IN – Egyptian Room at Old National Centre
March 11 – Holland (Grand Rapids), MI – Ridgepoint Community Church
March 12 – Detroit, MI – Fisher Theatre **
March 16 – Timonium (Baltimore), MD – Trinity Life
March 17 – Shippensburg, PA – Lurhs Performing Arts Center
March 18 – Woodbridge, VA – Hylton Memorial Chapel **
March 19 – Boston, MA – Emerson Colonial Theatre **
April 13 – Naperville (Chicago), IL – Calvary Chapel of Naperville
April 14 – Milwaukee, WI – Wisconsin Lutheran College
April 16 – Denver, CO – Riverside Baptist Church
April 27 – Sacramento, CA – Sacramento Memorial Auditorium *
April 28 – Los Angeles, CA – The Orpheum Theatre **
April 29 – San Diego, CA – The Rock Church **
April 30 – Phoenix, AZ – Dream City Church
** Rescheduled dates from Fall 2022 leg **