Sidewalk Prophets Drummer Exits Band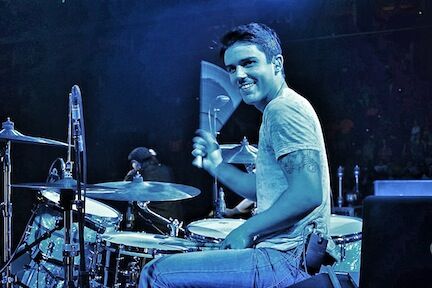 After nearly 9 years of being part of Sidewalk Prophets, drummer Justin Nace will be retiring his position as the band's drummer.
On the group's Facebook page, the group drafted a special note to fans to give Justin a forum to let us know about his departure and to give band members some real estate to express their farewells and thanks.
Here now is Justin's Farewell message:
Dear friends and family of Sidewalk Prophets,
We have an important announcement to share. After nearly 9 years of being part of Sidewalk Prophets our beloved brother and sultan of snare Justin Nace will be retiring his position as our drummer.

We've traveled the world, played in front of millions of people, and made so many unforgettable memories. While we're sad to see an end to his touring days, we're very excited for what God has in store for him, his wife and his beautiful three children. We know that this new chapter will be an amazing one. Below is a note from Justin as well as some notes from the band guys. Thanks so much for covering Justin and his family in your prayers as they face the adventure of starting a new chapter in life.

Note from Justin:

Over the past year God's been working something in my heart. I've been a part of Sidewalk Prophets for 8 1/2 years. I've realized my dream of playing drums and touring the world. I've met some incredible people, been to amazing places and made lifelong friends. It's been a rewarding journey.

This past December, as I was praying through what I've been feeling the past year, I felt God stir something else inside me. He was saying it's time to let go. It didn't make much sense to me at first but as I continued to pray through it it became even more evident. I knew I was to let go of the band before I could grasp what He has for me next. I knew I had to be obedient.

Being a musician has been what I've done for quite a while. It's comfortable. It's easy to identify myself with and get lost in being the drummer for Sidewalk Prophets but I know that can be a dangerous place. I know that whatever I end up doing, if I'm following where the Lord is leading, then it is going to be way better than forcing it out on the road with the band so I'm choosing to leave.

I told the band that this Winter Jam tour is going to be my last. I will be done playing as of April 3. I'm really excited and looking forward to this next season of life. I'm looking forward being home with my family and pursuing new dreams together with them.

Let's hold the things God has given with loose hands. Let's be thankful and keep pursuing Him.
Thank you all so much for your support and friendship over the years. It's really meant a lot to me and my family. We're grateful. I've been a slacker on Facebook but I stay pretty active on Instagram so you can keep up with me there at swpjustin. Thank you all!
Justin has been a member of the group for almost nine years. Our best wishes to him as he moves on to his next venures and work.