MIKESCHAIR: Going for Broke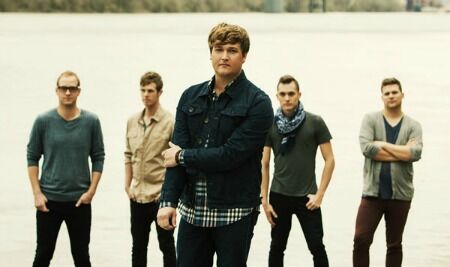 Going for broke…
Now or never…
All or nothing…
It's one thing to throw a cliché around.
It's another to see it through.
MIKESCHAIR
falls into the camp of the latter. Their latest record,
All or Nothing
, is a call to action for every Christian who is comfortable in complacency and satisfied with lukewarm faith. As their third studio project, the album showcases a band that is confident, yet humble, and fulfilled, yet hungry.
"We've been doing this almost ten years now, which is crazy," says frontman Mike Grayson, shaking his head at how quickly time has passed. "I feel like this is a season of challenging our fans to really take that step with us and say 'Hey! This is it! I've made a choice, and I want to see it through.'"
And see it through, they most certainly do.
CCM
caught up with Mike to learn more about their latest offering and how a new season of marriage and family is shaping their music and ministry.
CCM: All or Nothing doesn't leave much room for discrepancy. What's behind such a bold statement? What makes this record so special?
MIKE:
We are so excited about the new record,
All or Nothing
. It released on April 1, but it's not an April Fool's joke! This record was very different from our last. On that one, we wrote a bunch of songs and after the fact realized the theme. On this one, "All or Nothing" was the first song I wrote, and it really established the tone of the album. The song is all about the fact that I feel a calling in this season to encourage our generation that now is the time to be all in. We all hear verses about being lukewarm. This album takes a semi-militant approach. It's probably the most honest thing I've ever written. If you know what you believe, people will respect it. That's how I feel now. I want people to know what they believe and why they believe it. There are so many other things grabbing for our attention that can consume us. I wondered it this was too bold of a statement and if it would turn people off, but this is what we're called to as believers. The songs that I write aren't just for other people; they are songs that I need.
CCM: You've always been transparent about your testimony and childhood. Do you think that your history played a part in creating this need for an all-or-nothing kind of life?
MIKE:
I dealt with addiction growing up. For so many years, I believed the lie that if you bring up and talk about the dark spots in your life, people will walk away from you. But as I've talked about my testimony and my family, people have been drawn to what is real.
For generations my family has been no stranger to addiction. It's always been alcohol. I was eleven or twelve years old, and my entire life was affected by it. What I've realized is that it doesn't matter if it's your mom, dad, brother, sister—when it comes to addiction, everyone is affected. I remember the moment when I had to choose a road. There was one that led to life and healing and one that ultimately led to death. I'm so blessed. There is power in the name of Jesus to break every chain. … I get to say with full confidence that God is faithful. As of this year, we get to celebrate twenty years of sobriety and recovery. The road of recovery is long and hard, but it's exciting to be on the other side of it, seeing God be incredibly faithful in ways I never imagined. I love to communicate and be in front of people and look into their lives. I used to feel I was preaching to the choir a bit, but but there are so many people in the church so many people in the church who are struggling with the foundational concepts of living under Jesus and in His grace and mercy.
CCM: Wow. Twenty years is an amazing milestone. To think that the band has been around for half of that is also pretty incredible. How do you think these last ten years have shaped your relationships within the band?
MIKE:
It's interesting. We started ten years ago at Belmont University with seven people. We were almost the same makeup as Casting Crowns. But then some people started families and got off the road; so the lineup has changed from the original group, but the vision hasn't. The band is bigger than the individuals who make it up. God has brought the right people in and, as a band, we've never been stronger or more unified. I think things have changed, but change is good. To be where we are now, releasing a new record, has brought the band closer.
CCM: Given your crazy schedule, how have you managed to maintain a community of faith within and beyond the band? What have you learned along the way?
MIKE:
The majority of the guys are married; and we're gone on weekends all of the time, which is a bummer, but we started doing a small group together with our wives. Our first book was Crazy Love, by Francis Chan. It talks about prayer and how we approach the Lord. I approach the Lord a lot complaining, questioning, basically approaching Him like a two-year-old. But we have a life we don't deserve. All we can really do is say, "Thank you." I'm here, but I don't deserve to be. So I should start with a "Thank you."
CCM: Speaking of love, you're a newlywed! CCM chatted with your wife, Molly (of City Harbor), recently. She had all good things to say about the first year of marriage. Has it been difficult since both of you are so busy?
MIKE:
This job has gotten harder since getting married. We're just now entering a phase where she's touring while I'm touring. But it's just kind of what we do. It's been awesome. We were friends for ten years before we got married. It's been the best year ever.
---
Click here to read more articles like this from
CCM Magazine!
The above article is printed with permission from
CCM Magazine
, the No. 1 source for all things Christian music, news and entertainment