MercyMe Finishes 2021 with Gold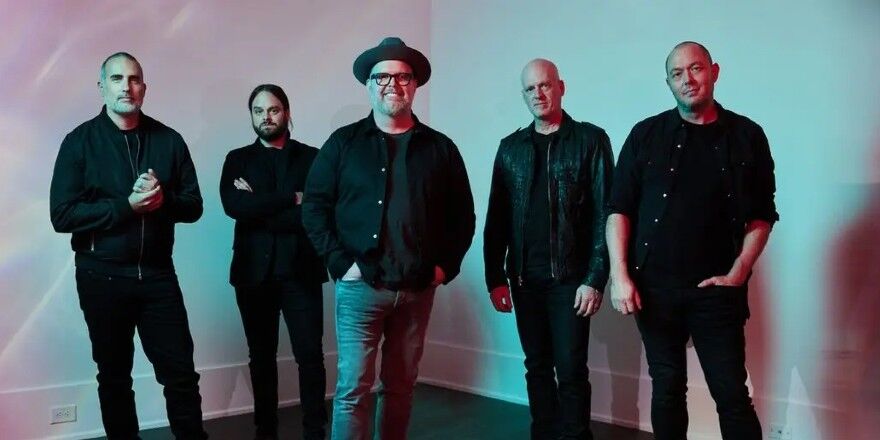 MercyMe finishes 2021 on a high note by celebrating the RIAA Gold Certification of their 2017 album LIFER. This is MercyMe's seventh RIAA Certified Gold album, joining 6 previous Gold Certifications and one Triple Platinum Certification. To note, all three singles from Lifer ("Even If," "Grace Got You," and "Best News Ever") hit #1 on Billboard National Christian Audience, AC Monitored, and AC Indicator charts.
Fair Trade Services' Founder/President Jeff Moseley and Senior VP of Marketing & Promo Dan Michaels, along with Scott Brickell and Kim Davis from the band's management, BrickHouse Entertainment, recently presented commemorative plaques to band members Bart Millard and Mike Scheuchzer at their studio outside Nashville.
For a limited time, MercyMe is excited to have launched co-branded Topps trading baseball card with Music City Baseball and the Nashville Stars. Available now through January 1, 2022, through Music City Baseball's dedicated partnership with the Negro League Baseball Museum, 50% of all proceeds will be donated to the museum.


Millard, who grew up in Texas as a Rangers fan, is one of Music City Baseball's trusted Music Advisors working to help bring Major League Baseball to Nashville.
"I love the fact that it's Music City and I love the fact that there's an advisory board of musicians behind this," said Millard. "I think it's crucial. One thing that sets us apart from other cities is the people advocating for this team. I've never seen a city that's more certain of its identity and what it's capable of. And people get it. It's already a destination place for so many people and to add baseball to that? It's a no-brainer."