Lauren Daigle: In Every Season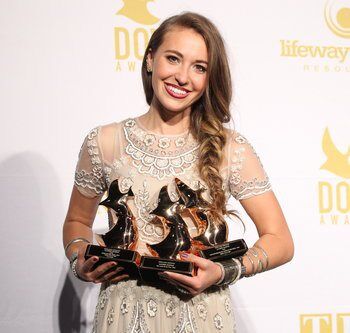 By Lena Ziegler, CCM Magazine.com
At fifteen years old Lauren Daigle was sure of one thing: she would never make Christian music.
"At the time I just thought I can't do that, my friends are going to judge me if I sing Christian music. So then I thought, 'I definitely can't do anything in worship. If I do worship [music], that just makes me old, all of a sudden!'" she says with a laugh. "These were my thoughts at fifteen!"
Now nearly ten years later (a realization that makes the twenty-four year old Daigle gasp in disbelief), she has become a household name in Christian music. With her first album How Can It Be debuting at #1 on the Billboard Christian charts earlier this year—and still standing strong at #4 even twenty-eight weeks later—and her first trip to the Dove Awards a staggering success, with a take-home of the coveted New Artist of the Year award and Song of the Year for "How Can it Be," Daigle has cemented her place and indelible role in an industry she once doubted she could ever belong.
"I really believe so many people just long for one person to believe in them," she says. "I feel like [New Artist of the Year award] was not just one person, but an entire industry saying, 'Hey we believe in you, we believe in what God is doing through you!' and giving me that warm embrace."
But that embrace didn't come easily for Daigle, who spent several years of her early career with sights set on mainstream success, and early signs from God telling her she was destined for greatness.
"When I was fifteen years old I was diagnosed with an illness called cytomegalovirus and I was placed on home bound rest for about two years," she explains. "And I kept having all of these dreams about tours, awards, charts and all of these different stages I'd be on. And I was like, 'God what is this about? Am I just having cabin fever, or is this real—what's going on?' Then He affirmed me. No, this is what I have in store."
From fear and uncertainty sprang resistance as Daigle made the personal decision to not pursue Christian music, despite messages from God telling her otherwise.
"I told the Lord—yes I told Him, 'I'm not going to do Christian music! I'll sing whatever You want me to sing, I'll do whatever you want me to do in the mainstream world, but I'm not doing Christian music.'"

Fast forward several years later, after struggling to make it in the mainstream market, including venturing to Hollywood for American Idol only to be sent back home to Louisiana, Daigle still hadn't found a home for her talent and passion for music. Though she led worship at her church, she still doubted whether the Christian music industry was the right place for her. "It got to the point when I said, 'Lord, I don't know what I'm doing, and I need You to help me figure this out.' So I got on my knees one day and prayed to surrender all of it, because in my heart I just care about singing—I care about glorifying Him," she says. "What I realized was that the more I fell in love with Him, the more He revealed things about how He really does give us the desires of our hearts, even if they look different than what we thought." And for Daigle, different came with an unexpected direction from God—a return to American Idol.
It was late in the rounds of the reality show competition's famed "Hollywood Week," and Daigle was doing well. But as she grew closer toward the final rounds, she had a life altering revelation on stage, unbeknownst to the world as they watched her sing.
"I breathed into the microphone and I thought, 'God if you don't come and inhabit this, it's not fulfilling. Nothing about this gives me the same feeling of being at home and leading worship,'" she says. "Even though there were millions of viewers, it didn't compare to the 1,500 people I was leading worship for at church. And right there and then, I knew that God was teaching me, regardless of what kind of music I do or what kind of life I live—if I don't do everything from a place of worship, nothing is going to be fulfilling. That was the game changer for me."

As Daigle's personal mission transformed, doors began opening for her. She was unexpectedly offered an opportunity to attend a music workshop with an indie Christian band she sang backup vocals for during her time at Louisiana State University. "Centricity, the label that I'm with now, contacted them and said, 'Hey, would you come out to this indie artist retreat, we want to see you guys work, and, oh by the way, we have one extra spot if you want to bring that female background vocalist.' It was totally random! So I went there, without a clue as to what this was. I just thought, 'Oh, a free trip to the mountains? That sounds great, sure, I'll go. And it's about music? Why wouldn't I go? That's fun!'"
In a "twist of fate" so exceptional, it could only be God's work, the lead singer of the band had an emergency appendectomy on the morning of their showcase, and Daigle was asked to assume on lead vocals.
Shortly after, Daigle dropped her scholarships at LSU and moved to Nashville to pursue music full-time, an act of faith so impressive to executives at Centricity, that they signed her on the spot.
"It's amazing how God puts all the pieces together," she says. "There's no reason to worry or strive whenever we just consider Him our provider in all things. God's not a God of risks. He just says, 'Trust me,' because He has it all under control. To us, in our human life, it looks like a risk, but He's like, 'No, I'm God. I got this.'"
Along with powerhouse vocals and unforgettable songwriting, it is Daigle's unwavering faith that moves so poignantly through her music and into the hearts of her fans that has made her a sensation. But even with that, Daigle says she struggles at times to fight the anxiety that comes with recording, performing, and trusting in God first before all things.

"That's exactly why 'First' was written. There was that pressure, like,'Hey, with these next four songs you write, can you please give us another hit? Thanks,'" she says, divulging the fears and doubts that plagued her when writing the songs that would transform the How Can It Be EP into a full-length album. "I woke up super-anxious one day, and the Lord showed me this passage; Seek first the kingdom of God and His righteousness and all these things will be added to you (Matthew 6:28). So I knew, right there in that moment, God was doing something incredible. I just needed to sit, and rest in His presence.
"The next day, I walked into a scheduled co-write, and the girl looked at me and said, 'They've come up with a song title, but they want to know what God was putting on your heart.' So I gave her that passage, and she said, 'Well, that's amazing, because the title we just came up with is called First. I knew, right then, that God was about to do something massive in this song."
"First," currently #1 on Billboard Christian Radio charts is massive in its sound, its scope, and its reach to fans, reminding them to have trust in God always, and to always put Him first.
"He's just going to do more, He's just going to do greater things, and remind us not to get anxious and fearful of the pressures, but to stay focused on His Kingdom. I have to battle that one, and still he'll say, 'Don't worry about those kinds of things, just focus on being a clean vessel for Me to pour through.'"
And it is God pouring through Daigle's voice and the words she sings, that she says forms the spiritual connection between herself and her fans, who through social media and meet-and-greets after her concerts, never forget to remind her of how deeply her music has affected them.
"Night after night, sometimes with tears streaming down their faces, people say, 'I can't tell you what God has done through your music'—it's the total pay off," she says.
"Because then, it's less about me and all about the power of God, as He works through the song. He's the one that's going in and transforming people's lives, and the fact that He would choose my songs completely blows me away.
"Just the other day a woman told me that she had been dating a married man for thirteen years, and then she heard "How Can It Be," and instantly knew she had to end the relationship. She said, 'I knew in that moment God had the capacity to continue to love me through this. Through my sin, through my shame, and to fix all the pieces afterwards, as well.' That, right there, is what it's all about!"
And when it comes down to it, that's what Daigle is now all about—sharing her faith through music, reaching people, and serving God as a medium for His message. Through an initial struggle to find her way, Daigle has found more than her musical path, but also a profound sense of peace and love, coupled with a worldview that could only be credited to her ever-evolving relationship with God.
"He's really crafted my eyes to see beyond what I would normally see," she says. "Like the capacity we have to love—it's just unbelievable. The ability to love beyond human, beyond flesh, and do crazy things, like loving the people that hurt you. That's the exact opposite way in which the world functions, but through Christ, we gain those abilities."
And in the case of Lauren Daigle, He's given her even more.
"When I look back over the last two years, I'm like, 'Wow, this has been so exciting!' The joys of it all are always there, always consistent. I feel like I'm completely in that surreal headspace, all the time. Just wondering…'Is this going to end?' I hope it doesn't. I hope this never ends!"
And as fans of Daigle, watching her career blossom through hit songs and unshakable faith, we pray it never does. With overwhelming vocals, a purity of heart, and an ability to seamlessly transform faith into music, it is ever the more evident that she is exactly where she is meant to be; creating music for believers in a mainstream world.
---
Click here to read more articles like this from CCM Magazine! The above article is printed with permission from CCM Magazine, the No. 1 source for all things Christian music, news and entertainment