Laura Story To Release Debut Christmas Album, "God With Us", October 9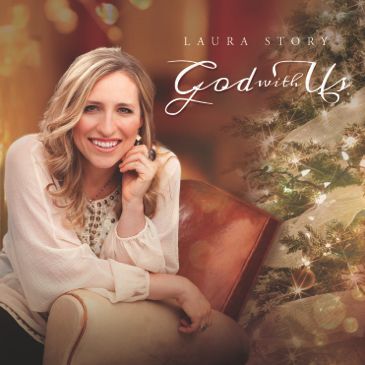 Nashville, Tenn. — GRAMMY® winner Laura Story is releasing her debut Christmas album, God With Us.

A mix of old, familiar classics ("Angels We Have Heard On High") and ("O Come All Ye Faithful") along with brand new originals ("Just Another Christmas"), listeners can expect to hear full, intricate songs as a 120-voice choir and a 50-piece orchestra accompany Story on several tracks. Additional collaborations on God With Us include multiple GRAMMY® Award winner Steven Curtis Chapman and Emmy Award winner Brandon Heath.

"Really excited to be releasing my first Christmas record," Story said. "This collection of songs celebrates the Word that became flesh and dwelt among us, not just two thousand years ago but here and now, walking with us through every joy and sorrow. Jesus is and forever will be 'God with us!'"

Story recently released her second book, "When God Doesn't Fix It: Lessons You Never Wanted to Learn; Truths You Can't Live Without" with Thomas Nelson, a part of HarperCollins Christian Publishing, Inc. The book is currently at No. 10 on the CBA Retailers + Resources Top 50 Best Sellers list for October. To learn more or order the book, click here.
God With Us
1. Love Is Here
2. Just Another Christmas
3. Come Thou Long Expected Jesus
4. Angels We Have Heard On High
5. O Come All Ye Faithful
6. Behold The Lamb Of God
7. O Come O Come Emmanuel
8. Emmanuel
9. Overture and I Lift My Eyes
10. Silent Night
Get Connected with Laura Story:
Website // www.laurastorymusic.com
Facebook // www.facebook.com/laurastory
Twitter // www.twitter.com/LauraStoryMusic
Instagram // www.instagram.com/laurastorymusic
About Laura Story:
GRAMMY® award winning artist, speaker, songwriter, author and worship leader Laura Story has a gift for penning songs that connect with people all around the world. Among her successes as a solo artist with her smash hits "Mighty To Save" and "Blessings," Laura has also penned hit songs for other renowned artists including Chris Tomlin's "Indescribable." Her solo artist music debut in 2008 with Great God Who Saves led to four Dove nominations and the award for "Inspirational Album of the Year." In 2011, Laura released her sophomore project Blessings. The album and the emotionally powerful title was inspired by her real life trials and adversities, primarily her husband Martin's diagnosis of a brain tumor. The album resonated with a huge audience and led to whirlwind career highlights for Laura, peaking at the No. 1 album spot for three consecutive weeks on Billboard's Contemporary Christian Overall chart, topping the iTunes® Christian/Gospel Top Songs chart and holding the No. 1 spot for an impressive 28 consecutive weeks on the Christian charts. The success of the single "Blessings," which was certified RIAA Gold, includes the GRAMMY® Award for Best Contemporary Christian Song, the Billboard Music Award for Top Christian Song and the Dove Awards for Song of the Year, Pop/Contemporary Song of the Year, Pop/Contemporary Album of the Year and Songwriter of the Year. The song inspired Laura's first book, "What If Your Blessings Come Through Raindrops?" in 2012. Her latest project - God Of Every Story - released in 2013 to much acclaim, and her first ever Christmas project God With Us, is set to release in October. Laura is a worship leader at Perimeter Church outside of Atlanta, GA and lives with her husband Martin and three children.