Kari Jobe is Lost in the Majesty of Her King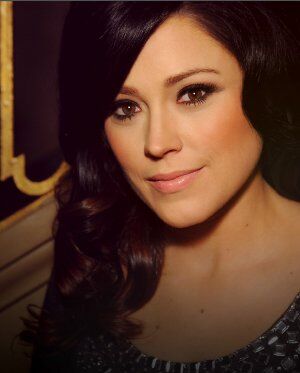 Every live project by any artist has at least one thing in common—there is nowhere to hide. No embellishment. No auto-tuning. No second chance to create a moment. On
Kari Jobe's
latest live release, there are countless moments that can only be described as majestic.
"My favorite thing is to open my eyes and see people connecting to the Lord," she says. "You can tell they're having an encounter with God. There's nothing like the sound of hungry and desperate people lifting their voices, declaring truth over their lives through music and feeling the atmosphere of a room shift because God is being glorified and lifted high."
The new project, aptly called
Majestic
, was about two years in the making, during which time Kari continued to lead worship in her home church, Gateway, wrote and co-wrote and wrote some more and, along the way, found her way back to the foundation of her faith, song and ministry.
"This is back to my roots," Kari affirms. "My main role is leading worship, so the live recording felt like a normal night of worship with just a little more pressure."
Like many artists, Kari is well-acquainted with pressure. Since taking the industry by storm with her renditions of mega-songs "Revelation Song," "Healer" and many more, her persona has practically become synonymous with modern worship, a role Kari has embraced with dignity.
Her previous album was a pop-oriented record, showcasing a different side of the songstress. The album achieved considerable radio success, led to extensive touring and posited Kari firmly in the highest echelon of female artists in Christian music. Personally, though, she's still a young woman dealing with the same insecurities and issues so many others experience.
"The enemy hates us. We're walking through life and have experiences that cause pain," she says. "Nobody's exempt from pain. Everyone has a story. We have to know who we are in Christ. If I remind God of who He is, He reminds me of who I am. I'm seeing Him now in a whole different way.
"I'm a daughter of the most high King," she continues. "He has the final say. To go into a king's throne room is a big deal. There's a reverence you have to have. You don't start yelling or asking for things. You go in with reverence."
That notion underscores the direction of this record. "A lot of times people come into church just after a child or someone has thrown a fit in the car," she says.
"If they see a worship leader on the floor, there's a disconnect. You don't even know how to enter in. You're still at home with the spilled milk.
"We realized we needed songs that help people connect with God as soon as they get to church," she continues. "He knows us, sees us and loves us. It's a sweet thing to invite God into our hearts, questions and prayers." Armed with a direction, Kari went about writing—alone and with others.
"I co-wrote with
Matt Redman, Chris Tomlin, Brian Johnson
and
Reuben Morgan
,"she says. "Musically I can only get to a certain place with my own skill. I had to get out of my comfort zone. You have to build relationships when you're writing, otherwise it's pretty awkward. Fortunately, we all have a collective heart. We can ask questions like, 'What is God saying to you?' or 'What songs are needed?' To bring those different worship communities together is really powerful. It was an honor to write with everybody."
That collaboration translated powerfully from the writing room into the live setting, as the worshippers definitely responded. "There is always a sweet presence of God in the studio. But when recording live it is amazing to hear the people singing out and worshipping with me," she says. "Listening back I have had the audience microphones turned up numerous times throughout the album because they sound so strong and incredible."
The voices, along with a second drummer and more strings, contribute to the sonic masterpiece that isn't a record out for sales, radio play or notoriety. This is a worship experience from beginning to end. The worship leader is front and center, exposed, vulnerable and utterly transparent. Nothing to hide, nothing to embellish… Without question, Kari's roots are showing, and her intentions are clear. "I want freedom in my life, and I want to live as an overcomer," she says.
"I am a daughter of the King. I have His heart. That changes my perspective in life. When I die, if I was known for one thing, I would want to be known for [helping people] fall more in love with Jesus," Jobe asserts. "So I don't care what song I sing, as long as the heart of it is that people fall more in love with Jesus and they understand the heart of God for them."
---
Click here to read more articles like this from
CCM Magazine!
The above article is printed with permission from
CCM Magazine
, the No. 1 source for all things Christian music, news and entertainment