Josh Wilson Hits The Road This Fall For His First Headlining Tour, Kicks Off 'The Carry Me Tour' Oct. 9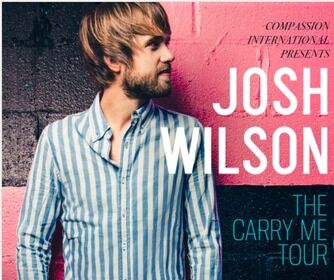 Franklin, Tenn - Josh Wilson, the multi-talented singer, songwriter and musician known for his radio singles "I Refuse," "Before The Morning" and many more, has announced he will be hitting the road next month for his very first headlining tour. Presented by Compassional International, "The Carry Me Tour" - which will feature support from both Citizen Way and Dan Bremnes - will kick off on October 9 in Wentzville, MO and wrap November 2 in Murraysville, PA.
Wilson is working hard to ensure that this is a concert experience you won't want to miss. "This fall as I'm embarking on my first headlining tour, I'm going to work hard to make sure it's a concert worth attending," he shares. "I want folks to enjoy themselves and be entertained, but most of all, I want to do my best to show just how great Jesus Christ is. I truly believe that when we experience the beauty and truth of our Savior, we are never the same. My prayer is that during this next recording and touring season, I am bold in my art and bolder in my faith. I want to honor the Lord in what I say, sing, and do, both on and off the stage. I couldn't be more excited for this next season, and I'm so honored that you've chosen to let my music be a part of your journey. See you on the road soon."
Wilson is expected to release his anticipated fifth full-length studio project in spring 2015, which is the follow up to his latest album, April 2013's highly-touted Carry Me.
For more information and to purchase tickets for "The Carry Me Tour," please visit
joshwilsonmusic.com/tour
. Following his headlining tour, Wilson will join Sanctus Real on the "Compassion Presents Sanctus Real" tour in November. He will also be part of NewSong's Very Merry Christmas Tour that will run through December.