HILLSONG Presents: The Power of the Name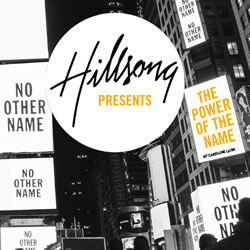 Names are important.
Expectant parents deliberate endlessly over the name of their forthcoming child.
Businesses, bands, organizations take great care and pride in selecting a moniker around which to create and build their brand.
At the basest level, names provide a means of organizing things of this world. Beyond that, names are the gateway by which identity is acknowledged, assumed or assigned
Names matter, at least within the context of humanity. That which is bound by the earth is bound with a name.
Hillsong has had lots of names. Founded as the Hills Christian Life Center in 1983, the evolution of the church into a global ministry has involved various identities —
Hillsong United
,
Hillsong Live
,
Hillsong Young & Free
and, most recently,
Hillsong Worship
.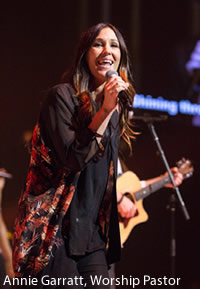 Year after year, new music spills forth from each of these entities. Week after week, thousands of people pour into the seats and pews of Hillsong's multiple campuses. Names such as
Darlene Zschech, Reuben Morgan, Brooke Fraser
and
Joel Houston
have been associated with Hillsong throughout the years; and their live events invariably affirm their global following, evidenced by selling out such venues as the Staples Center in Los Angeles. All of these indicators scream that Hillsong is engaging and affecting the world. At the same time, all of these indicators beg the question, "Who is Hillsong?"
"We are a local church," says Annie Garratt, one of the worship leaders within Hillsong Worship. "We are a family doing life together. We are blown away and humbled every day that we get to be a part of this incredible church."
Incredible
is somewhat of an understatement when it comes to the history and impact of Hillsong around the world. Upon its founding, the church quickly grew, expanding to multiple campuses across Australia and the world, including London, Stockholm, Paris, Moscow, Amsterdam, New York, Los Angeles and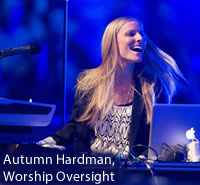 many others. All the while, the music that emerged from HIllsong's dynamic worship team began to revolutionize modern worship.
In 1992, Geoff Bullock penned "The Power of Your Love." Darlene Zschech followed shortly thereafter with the epic "Shout to the Lord."
Since then, songwriters such as Reuben Morgan, Joel Houston, Brooke Fraser and Matt Crocker, among others, have created a catalogue of songs that have done more than expand the concept of worship; they have translated foundational spiritual truths to a generation.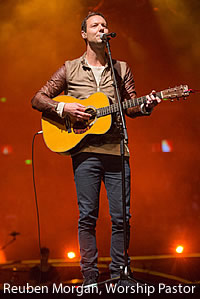 "You can remember songs for a long time," says David Ware, also a worship leader in Hillsong Worship. "We are teaching our churches theology. We're trying to present ancient truths in new ways. It's so great to have people singing and declaring truth."
From top to bottom, the latest album, also the first to emanate from the name Hillsong Worship, does just that.
No Other Name
"speaks to the power of the name of Jesus," says David.
Given that Hillsong, as an entity, engages the power of naming to define its various components, the album is a bold statement declaring that no name—not even any of theirs— comes close to the power of the name of their Savior. That sentiment came to life even more so during the photo shoot for this new album, which was also introducing the newly monikered Hillsong Worship.
Amazingly, their creative team negotiated the use of 27 marquees in the middle of Times Square to simultaneously bear their message to the world for 20 minutes. Due to a scheduling glitch, they ended up with a full hour for free. So, for 60 minutes, in the midst of what many consider to be the global hub for music, news, entertainment and more, these words appeared on the screens:
NO OTHER NAME.
JESUS.
There was no mention of hills or songs or even worship.
With the eyes of the world upon them, on arguably the greatest marketing real estate in the world, Hillsong deflected the gaze of the onlookers skyward. It's a technique they've been honing for years and a passion God set upon their hearts long ago.
"It was a little snapshot of what we hope the album will accomplish," says Annie. "These are songs for the church. Our hope is that people will encounter Jesus. We're actually creative evangelists."
The depth of the lyrical content reveals just how seriously they take their evangelistic charge.
"My personal favorite song on the record," offers Annie, "is one that is based on the Apostle's Creed. An Anglican minister tweeted us at the start of the year asking us to turn the Apostle's Creed into a song. We started working together, and the song took shape. We work-shopped it with the Anglican minister and our teaching pastor. Now, it is headed soon to the underground church in China. We can't wait."
"It has had a unifying power," David adds. "We've heard it at churches across the world. We were even invited to share the song with forty-three members of Parliament. We weren't trying to write something to replace the creed but to help a young generation get hold of it."
Keenly aware of the implications and reach of their words and songs, the workshop process is employed in the writing of all their songs.
"Our teaching pastor will take the lyrics and a red pen and scrutinize the songs," says Annie.
"One of our core values as a worship team is to be singing the truth," David adds.

The result of their meticulous care on the front end extends far beyond knowledge exchange.
"We never get tired of hearing individual stories and never take it for granted," says Annie. "Once, a family came up to the team to say thank you. Their son had recently shot himself in front of their other son. They were torn apart. They put on a Hillsong worship album and were touched. Matt Crocker, one of our songwriters and leaders, was standing there and shared with the family that his sister committed suicide around the same age as that family's son. In that moment, we were undone."
"There was another time in 2009," David adds, "when a girl literally ran up to me and hugged me. She had seen a video of me singing 'Everything' on YouTube. She was so moved. You don't expect to have real contact with real stories like that. But every sale, number or unit is a family or a church. If that's not the base goal of everything, we're missing the point. It's easy to look at Hillsong and see Worship, United or Young & Free. But at the core of who we are, we're actual pastors who care for people. We're not just making albums and writing songs."
"We want this album and these songs to be a resource for the greater church," adds Cass Langton, Creative Global Head of Hillsong. "We want these songs to be sung in churches and by a mum with her kids. Our hope is that the songs would help connect people to Jesus."
With their hearts set on the Cross and their lips echoing the name of Jesus, Hillsong is the type of phenomenon that only makes sense in the context of an all-powerful Savior. From the suburbs of Sydney to Times Square, the name of Jesus resonates from the lips of those who have chosen to give their whole lives to the One who already gave His. And each time it is uttered, thought, sung, written or read, the power of the name of Jesus moves as no other name can.
Annie sums it up well. "There is no other name. From songs like, 'Thank You, Jesus,' written while one of our team member's newborn baby was on life support and slowly began getting better, that song allowed us to see how God is so kind to us. There's so much we can celebrate. It's amazing to see what He accomplishes through pretty regular people. We feel like we're ready to pioneer again. We're so excited about what's coming in the future."
Be it another group, another tour or another record, one thing is certain — Hillsong calls it like it is. Faithfully, they have surrendered their gifts, their identities, their pride and aspirations to the only Name that matters--the only Name that will last forever, the only Name with the power to save, transform and redeem. Jesus.
FOR MORE INFORMATION, VISIT HILLSONG.COM
---
Click here to read more articles like this from
CCM Magazine!
The above article is printed with permission from
CCM Magazine
, the No. 1 source for all things Christian music, news and entertainment