Francesca Battistelli Featured in Upcoming Faith-Based Movie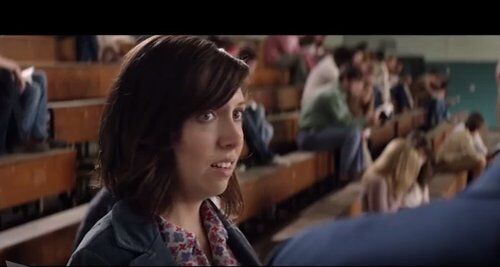 The faith-based community can appear to be a small world where it's hard to keep things under wraps. Such is the case for singer Francesca Battistelli ("Holy Spirit"). We found out quite accidentally that she will be starring in the upcoming movie, Woodlawn.
Actually, we have to credit Jamie Grace for tipping us. She happened to catch Francesca briefly in the Woodlawn movie trailer and shouted the news to her Twitter peeps:
@jamiegraceh: Yall @francescamusic is in a movie!! Just saw the trailer. I think it was called Woodlawn
From Francesca's social media:
I'm so excited to tell you about a great new film called Woodlawn that I'm honored to be a part of. It's a true story set in 1970s Birmingham, Alabama and is about a great revival that took place in our nation told through the eyes of the city's high school football team. This revival healed the wounds of a city torn apart by race and unified it through Christ. It's an incredible film, and I'm honored to have a small role in it! Watch the trailer below (see if you can spot me!), and be sure to see it in theaters October 16th! The film was created by the Erwin Brothers, who also brought you October Baby, Mom's Night Out, and my music videos for "Beautiful, Beautiful" and "Free to be Me!"
Woodlawn will be out in theaters beginning October 16th. Here's the movie trailer so you can see for yourself. Francesca appears briefly starting at 1:50 in. We hope her role in the movie is longer than in the trailer! :)

About Woodlawn
A gifted high school football player must learn to boldly embrace his talent and his faith as he battles racial tensions on and off the field in WOODLAWN, a moving and inspirational new film based on the true story of how love and unity overcame hate and division in early 1970s Birmingham, Ala.
Tony Nathan (newcomer Caleb Castille) lands in a powder keg of anger and violence when he joins fellow African-American students at Woodlawn High School after its government-mandated desegregation in 1973. The Woodlawn Colonels football team is a microcosm of the problems at the school and in the city, which erupts in cross burnings and riots, and Coach Tandy Geralds (Nic Bishop) is at a loss to solve these unprecedented challenges with his disciplinarian ways.
It's only when Hank (Sean Astin), an outsider who has been radically affected by the message of hope and love he experienced at a Christian revival meeting, convinces Coach Geralds to let him speak to the team that something truly remarkable begins to happen. More than 40 players, nearly the entire team, black and white, give their lives over to the "better way" Hank tells them is possible through following Jesus, and the change is so profound in them it affects their coach, their school and their community in ways no one could have imagined.