Chris Tomlin: He's No Hero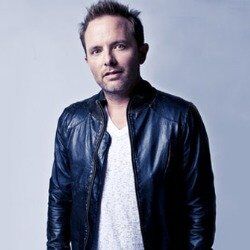 Given his recent foray into fatherhood, one might assume that Chris Tomlin's latest record, Burning Lights, was a creative twist on burning the midnight oil.
But, given Chris Tomlin, it's a safer bet to assume that this album, just like all the others before, is not about him at all.
"The song was written with Martin Smith (Delirious?)," Chris shares. "When he came to me with those lyrics, it was everything I wanted to say. I'm no hero of the faith/I'm not as strong as I once thought I was/Just a shepherd boy singing to a choir of burning lights.
"I think people might think I have a special connection to God, I'm no hero. Obviously King David was out watching over his sheep, singing and pouring out to God long before he's given a platform. And even when you have it, you're still just a shepherd boy, singing a song to God.
"To the people reading this, you are the burning lights. I'm hoping to sing over the people a song that will lift them up. There's something special about music."
And who better to make such a statement than one of the most sung songwriters in the world, which Time Magazine asserted in 2006[1]. But it's not the numbers or accolades or awards that drives Chris. Rather, it's his unshakable belief in the power of song to give our hearts the words of praise that navigates his world—from the songs he writes and sings to the artists he works with.
"There's power in our words," Chris affirms. "What we're speaking into our lives reflects what we believe…what we believe about God. That's all through scripture—Praise the Lord, oh my soul. David is telling us to rise up and praise."
Even a cursory listen through Burning Lights makes it clear that Chris is doing just that. But, consistently humble, Chris makes it clear that the success or reach of any of his music is not and has not been a solo effort.
"The strength of my music is in collaboration. I know some amazing songwriters and friends and I knew that I wanted to have different people on the songs," shares Chris.
No surprise, the guest artist list on the most recent album reads like a who's who in the Christian industry—from LeCrae to Christy Nockels to Kari Jobe and Phil Wickham, the talent is bar none. Coupled with Chris's knack for pairing the right artist with the right song, this album jumps from just another worship project to something much more unique…something much more special, beginning with the opening track featuring LeCrae.
"I wanted 'Awake My Soul' to be different," Chris says. "I was reminded of the valley of dry bones and within that found a melody and a bridge. I thought it would be really different to just speak it out. I did it…and then realized that that didn't sound cool at all. It was East Texas. So I thought of LeCrae. I love his heart and what he's all about. He really brings the word to life."
The praise for his collaborators doesn't end there.
"Christy Nockels…I've had a long partnership singing with her and Kari Jobe as well," Chris continues. "I love what God's doing in their lives."
A relatively new pairing emerged when Chris and Phil Wickham created a song together. One that was recorded once…and then completely stripped down and recorded again to capture the rawness and vulnerability of the original track…
"What you hear is me and Phil with our acoustic guitars. He has one of the best voices in all of music. It was a joy to sing with him," says Chris.
Joy is in no short supply around Chris's home and heart these days. Not only is he enjoying one of the most fruitful seasons of his professional career, but he is also navigating the relatively new waters of marriage and fatherhood.
"Ashland [Chris's daughter] is amazing," Chris says with an audible smile. "I'd always heard that you grow up when you get married. But you really grow up when you have a kid. You learn what it means to be a man, a dad. You learn what you're fighting for in life. It's not just yourself anymore…you're thinking about your wife and your family. I love that. It's humbling in and of itself."
While Chris admits he and his wife, Lauren are "still trying to figure out being married," given that they're only two years in and have managed to start a family despite the demands of the road, odds are they're doing something right.
"They [wife and daughter] will come out for a few days. I prioritize that," says Chris. "I try to make sure we're together a lot."
The same reasoning is at play when it comes to his relationship and connection with God.
"It's a matter of fellowship of the heart," Chris says. "It's letting the Word speak to me and setting my heart on what's in front of me—not the demands of life."
It's a commitment he has maintained despite his globe-trotting tour schedule and active role in Passion (which recently hosted over 60,000 college students).
Suffice it to say, Chris is striking the balance where he needs to.
And, schedule and busyness aside, he continues to see the burning lights of God's people before his eyes. Sidestepping fame…sidestepping himself…Chris Tomlin may not be a hero by his standard, but for sure, he is in great pursuit of the mightiest hero of all.
---
Click here to read more articles like this from CCM Magazine! The above article is printed with permission from CCM Magazine, the No. 1 source for all things Christian music, news and entertainment