VIDEO: Katy Nichole Presented First #1 Billboard Song Plaque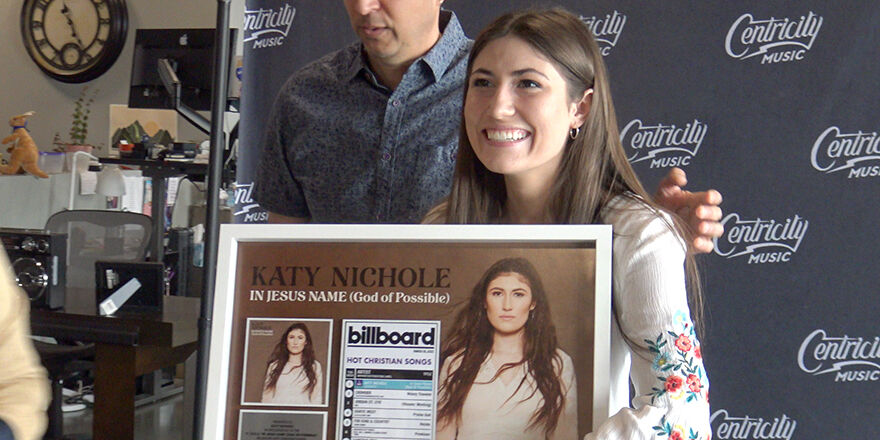 Singer/songwriter, and Centricity Music's latest break-out artist, Katy Nichole, hit No. 1 with her song "In Jesus Name (God of Possible)" on the Billboard Hot Christian Songs Chart. Her viral debut single has also topped the iTunes Christian & Gospel Songs Chart since it released Jan. 26.
Centricity Music presented Katy with her first Billboard plaque on April 6, 2022 at their offices. Watch the video below:
Releasing her first concept music video and a piano version of the song inspired by the early chorus that went viral on TikTok, Nichole also recorded "In Jesus Name (God of Possible)" live for Essential Worship while additional resources for the song are available at PraiseCharts, MultiTracks and Worship Together.
'In Jesus Name (God of Possible)' Video:
As the song continues to resonate with people of all backgrounds across the world, Nichole is also receiving numerous invitations to sing the song live. Going from zero to 50 concerts on her schedule so far, upcoming events include Good Friday Nashville with Chris Tomlin at Bridgestone Arena April 15 plus a Live at Red Rocks appearance and a major fall tour (both to be announced soon). She also recently sang "God Bless America" at the NASCAR WISE Power 400 live held at Auto Club Speedway, joined Big Daddy Weave for four concerts and sang "In Jesus Name (God of Possible)" last week during Jason Gray's SiriusXM The Message Acoustic Story Time event.
Reaching well over 150 million people with the chorus of "In Jesus Name (God of Possible)," 21-year-old Nichole created the song from words in her prayer journal that were written in the midst of a global health crisis and in response to her own story of suffering, hope and healing. She suffered for years with scoliosis before a new doctor took out the metal rods that had been placed in her back, which miraculously went straight, no longer giving her pain.
People worldwide are hearing Nichole's song and telling their own heart-warming, and many times heart-breaking, stories. Each story branches out into a series of new shares that continues branching virally. More than 7,200 examples of this can be seen now on TikTok.
While her first single is a worshipful anthem ready-made for roomfuls of people to sing, it only reveals one facet of this multidimensional artist who is working on her debut album now, again drawing from her journal and well of life experiences.