Avalon Changes Name, Releases New Self-titled 'Avalon Worship'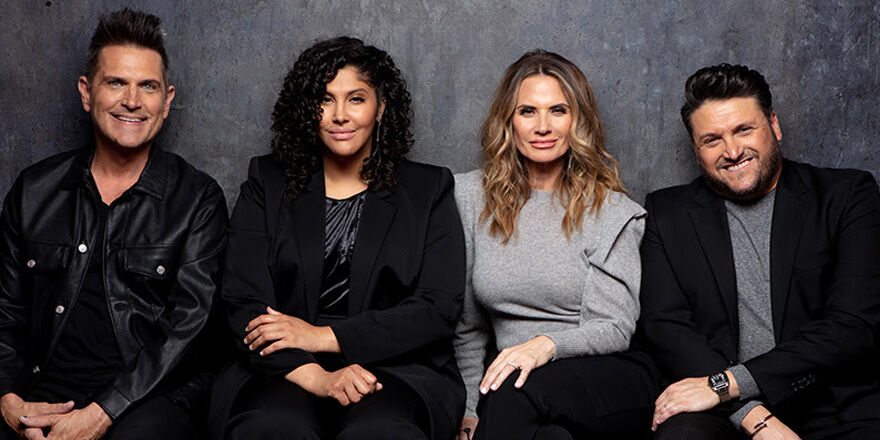 American Music Award-winning, GRAMMY Award-nominated Christian pop vocal group Avalon has long been admired for show-stopping, mega-hits like "Testify To Love," "Can't Live A Day," and "Adonai." While these iconic compositions have shaped their legacy and remain close to their hearts, the members of Avalon—Janna Long, Greg Long, Jody McBrayer, and Dani Rocca-Herbert—are ready to explore a new musical direction.
With the release of its new self-titled, brand-new project, the group has officially announced a name change to Avalon Worship.
YouTube Album Playlist:
Spotify Album Playlist:
Produced by Don Koch, this new Red Street Records project, Avalon Worship, reflects who they are as individuals as well as a worship collective.
"For the past eleven years Greg and I have been staff worship leaders at a local church north of Houston," Janna says. "Jody's also a staff worship leader at a church in Ohio. Dani became a worship leader right out of high school. Leading worship has been a natural progression in our personal lives, so it made sense to extend that into our recording world." "We're all personally in a place where we need the connection only genuine worship can bring," Jody adds. "There's real healing and safety in the presence of God. These songs are where we are as adults and as Christians and believers."
This natural evolution has given the group a renewed energy for creating music that edifies and encourages.
Avalon Worship includes both original recordings as well as worship covers of some of the most well-known songs sung in churches every weekend, all carried by the group's signature, powerhouse vocals.
Jay DeMarcus, owner Red Street Records said: "I am so extremely proud of my friends. I think they have made one of the best albums of their entire career. This Christ centered, hope-filled, grace-driven music will touch the very depths of your soul. It will hit you right where you live, with an anointing that is palpable and very real; it will lead you straight into worship."
"You Deserve It All"—a new track—is a vocal-forward, heart-mover reminiscent of the group's early hits. "It's a stunning song that encompasses what worship is all about," Jody says. "We were created to worship. Every weekend I drive from Nashville to Cincinnati where I serve at a local church there. Sometimes when it's time to leave I think, 'I don't want to go do this.' But this song, every time I hear it, I'm reminded this opportunity is afforded by God and I have a chance to give it back to Him. He deserves that back in praise."
"Here," a song Greg Long co-wrote with Don Koch (who produced the album) and Dave Clark, is an honest cry about our need for God's presence. "That line, 'we're fine to come here empty, as long as we leave with you,' came from the writer's room," says Greg. "It was one of those days. I'd flown in from Houston to Nashville and had several writing appointments. I got in the room with Don and Dave and said, well, any ideas? We were empty. I said, we need Him here with us. Let's stop and pray. So we did, we asked the Lord to be in the room and He was. When He shows up, everything changes. And we're so glad."
Musical and vocal standout "So It Will Ever Be," is an impassioned track heralding God's sovereignty and how there is none like Him. "It's not an easy word to accept, sovereignty," Greg shares. "Especially when things aren't going your way. Resting in His sovereignty is not always easy, but it's always right." "You cannot deny the sovereignty of God," Jody says. "He is going to be that forever. We can rewrite that to make ourselves feel better, we can try to manipulate the Gospel, manipulate who God is, but He will always be who He is. His narrative is forever. His sovereignty is forever."
Adding their well-tuned vocal arrangements to worship hits like "Rattle," "The Blessing," and "Graves Into Gardens," the songs become instantly singable. But the group chose which covers to include based on what the message and lyrics meant to them. "We chose these covers based on how they connected with us and how they've connected with the body of Christ as a whole," Janna says. "'The Blessing' is one of those songs that came during the pandemic," Dani says. "I think we're all grieving something we don't know how to process. Most of us haven't grieved what happened, we just survived it and went through it. For me, 'The Blessing' reflects the grieving process, the Lord carrying us through the unknown." "It's a song we all wanted to do," Jody says. "We all have families and children and the way that song echoes the favor of God on our children…the first time I heard it I sat in my living room and wept. Because that's what we want."