Give Your Spouse a Closer Connection for Valentine's Day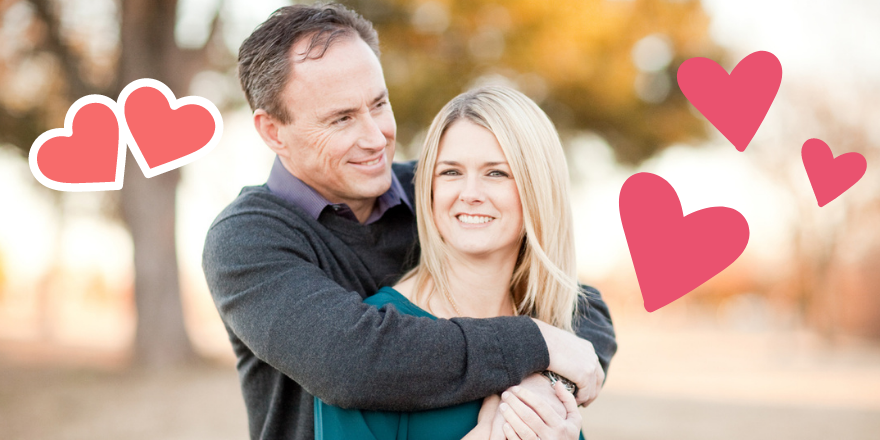 By Cindi and Hugh McMenamin, Co-authors of When Couples Walk Together
Chocolates melt, flowers die and jewelry can be broken or stolen. So why not give your spouse a Valentine's Day gift that will improve your marriage and result in a closer connection?
I (Hugh) did this for my wife without even realizing it.
After attending our first marriage conference, I wanted to do something tangible to remind me to put into practice what I'd learned. I'd been discovering that Cindi responds well to words of affirmation and physical touch. But sometimes at the end of the day, I'm still thinking about unresolved issues at work or how hungry I am and I don't come through the door thinking about what she needs. So I printed out a phrase on a strip of paper and taped it to my car dashboard: "Talk more, touch more."
Related: Take Our Valentine's Day Mini-Survey!
Cindi saw it one day and asked "What's this?"
"That's a reminder to me of what you need every evening when I come home," I said. (Now guys, I probably don't need to tell you that I scored big time on that one.)
Our wives need our words…even if just to say 'how was your day?" or to say "my day was rough, that's why I'm not talking much." And our wives need our touch in a way that says "I care about you" and "I consider you my best friend."
Guys, sometimes when we talk, it's about us. And when we touch, it's for us. But when "talk more, touch more" is for your wife, it goes a long way in affirming to her that she is on your heart.
I (Cindi) wish I could say that "talk more, touch more" is something I offer Hugh, as well. After all, that would be quite easy for me. But actually, "listen more, understand more" is what he needs from me in this season of his life. On a day when he is wiped out, physically and emotionally, from dealing with a lot of demands at his job, I need to let him talk less and I need to be understanding of his need for silence – or at least less commotion – at times.
Lest you think we are stereotyping, you might be the couple in which he wants "talk more, touch more" and she wants "listen more, understand more." That's okay. The key is for you to understand what it is your spouse needs to feel affirmed and loved, and not only offer that on a daily basis, but post it in front of you, if you need to, as a reminder to offer that to each other.
Can you both come up with a phrase or a reminder to yourself of what your spouse needs from you the most?
Cindi's brother and his wife quote to each other the phrase "We're on the same team" to keep tension from arising between them. It's an instant reminder that they are not enemies and they are working for the same goal when things begin to get hectic in their home.
Similarly, at the "Weekend to Remember" Marriage Conference that we've attended a few times, we are reminded of the truth "Your spouse is not your enemy." There are times when I (Cindi) have to remind Hugh – and myself – that truth: "I am not your enemy. We're in this together. We are on the same team."
Our friends, Scott and Patti, are well aware of what each other needs when tension gets high in their home.
"Patti needs my friendship and my strength" Scott said, whether she's facing a difficult day, health wise, or worried about a doctor's appointment or just needing understanding after a rough day. Patti, likewise, knows what Scott needs from her. "He needs my spontaneity and my stability," she said. "I'm the planner, so he likes that I know where we're going and what's going on. But he can tend to be too much of a planner so I bring the fun to his life through my spontaneity."
So if Scott is in the doldrums, Patti's spontaneity becomes a blessing in his life. And if he just needs things to slow down and get quiet, that's when her stability ministers to him.
By keeping in the forefront of our minds what our partner needs, we are esteeming them above ourselves. We are showing grace. And we are more likely to give them more of what they need – and less of what they don't need – at precisely the right time. This Valentine's Day, consider giving the gift of what your spouse needs most. It will let him or her know that you are listening, you are trying and you are determined to achieve a closer connection.
Related: Take Our Valentine's Day Mini-Survey!
What is the slogan (or slogans) you two need to adopt to help remind you to offer to your spouse what he or she needs? (Ours are "talk more, touch more" and "listen more, understand more" but yours might be vastly different.) Be creative and have some fun coming up with these. Turn your slogan into a gift by writing it on the card you'll enclose in her bouquet of flowers, printing it on the box of dark chocolates you'll give him, or writing it in a card that tells your spouse your heart is set on meeting his or her needs this year.
Hugh and Cindi McMenamin are the co-authors of When Couples Walk Together: 31 Days to a Closer Connection. They have served actively in ministry together for more than 20 years -- he as a senior pastor and Bible teacher, and she as a pastor's wife, national speaker, and author of several books including When Women Walk Alone, When A Woman Inspires Her Husband and Letting God Meet Your Emotional Needs. For more on their ministry and for free articles of encouragement to strengthen your soul or your marriage, see www.StrengthForTheSoul.com.
Page Source (url):
http://www.crosswalk.com/family/marriage/engagement-newlyweds/give-your-spouse-a-closer-connection-for-valentine-s-day.html