Blueberry Zucchini Cake Is The Perfect Summer Dessert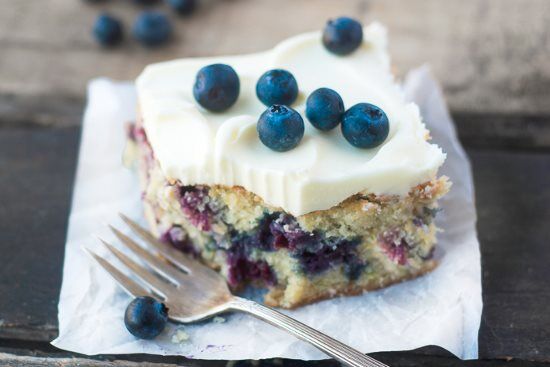 Blueberry Zucchini Cake With Lemon Buttercream
Summer gives us a bounty of fresh edibles. Blueberry Zucchini Cake with Lemon Buttercream combines the best of the season!
Picture this. You wake to a sunny and mild day and have nothing planned for your morning. You grab a cup of coffee and your morning cake and walk onto the porch to savor a few moments of peace. Wait, cake? Yes, I said cake. There is nothing wrong with cake for breakfast and this is the perfect recipe!
Sue from The View From Great Island (isn't that a great name?) is bringing us an adaptation of one of her favorite iambaker recipes, which gives us some of the best flavors of summer, but in a beautiful little snack cake. You really should try this out. Very soon, you will be able to find all of these ingredients at your local farm stand. The recipe is really quite easy and now you can have your scrumptious summer cake and eat it too…for breakfast or any other time of day!
Here's what you will need to make Blueberry Zucchini Cake with Lemon Buttercream:
For the Cake:
3 large eggs
1 cup vegetable oil
1 Tbsp vanilla extract
2 1/4 cups sugar
2 cups shredded zucchini
3 cups all purpose flour
1 tsp salt
1 tsp baking powder
1/4 tsp baking soda
1 pint blueberries (tossed in 1 tsp flour)
For the Lemon Buttercream:
1 cup butter, (2 sticks, 8 ounces) at room temperature
4 cups confectioners' sugar
juice of one lemon