Attention Husbands: Here Are 10 Valentine's Day Ideas She'll Love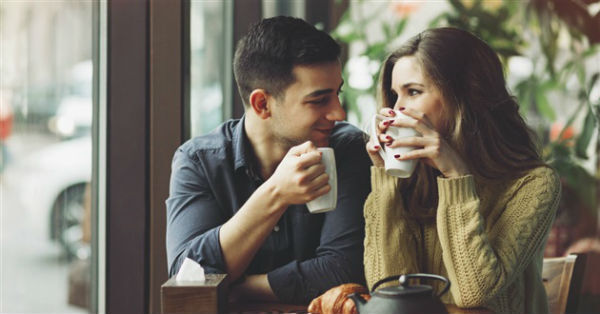 Marriage is a journey, filled with peaks and valleys. Every marriage has varied gradations of shadow and light, but the beauty of marriage is how it's laced with grace and unconditional love. Even so, marriage feels 'ho-hum' at times, routines scream monotony. This Valentine's Day, why not try something new and different with The Bride?
Husbands, here are 10 easy ways to reignite wonder and laughter. Moments of oneness, the glue which binds marriage. Any husband can reignite the flame with these simple dating ideas which work regardless of your age and budget.
1. Prepare Dinner
There's not one woman who doesn't feels grateful when her bridegroom offers to cook a family meal. It gives the ladies a night off; it's the ultimate "I love you." Check out Real Simple magazine's monthly recipes for delicious and affordable dinner ideas. We tried the homemade Ramen Noodle Soup recipe. Your spouse will appreciate the fact that you've gotten paper plates for an easy clean-up!
Serve one another humbly in love, Galatians 5:13
2. Nature Walk and Talk
Upon the first signs of spring, husbands and wives can burn calories by taking local walks around town. It's good for your health. It's good for the mind and the burst of fresh air is natural medicine. So grab her hand, engage in a heart-to-conversation. Exploring nature does wonders for the body and soul and any form of walking reduces stress.
"Enjoy life with the woman who you love all the days of you fleeting life," Ecclesiastes 9:9
Related: Take our Valentine's Day Mini-Survey!
3. Attend a Local Cooking Class
Cooking schools are popping up in various locations across the U.S. All it takes is one passionate chef and a crowd of eager (and hungry) students to whip up a tasty and innovative meal screaming deliciousness! Most schools allow you to prep, cook, eat and socialize around the table. You'll gain new friends and take part in a grand experience. If you're in the Northeast, check out this gem along Connecticut's coastline: The Fig Cooking School.
4. Cozy Night In.
Frigid weather has its benefits. So prop up the pillows. Grab your laptop and sign in to Netflix. Get your cozy socks and jammies on and make a night of binging on classic movies and old reruns with Wifey. Make sure pints of ice cream and savory snacks are readily available. Laughs, comfort, and a great movie is one way to date inexpensively.
Our mouths were filled with laughter, our tongues with songs of joy. Then it was said among the nations, "The LORD has done great things for them." Psalm 126:2
5. Check Out Art.
We recently got to see priceless drawings made during the Italian Renaissance at the Metropolitan Museum of Art. What I love about The Met is the suggested $25.00 admission fee, but if you're on a tight budget, give them whatever you can afford! Art should be available to everyone, especially husbands and wives. There's something magical about grand hallways, famous paintings, and holding your lover's hand in a big crowd of people. Check out Rodin's love in action with the famous sculpture: Cupid & Psyche kiss.

6. Double-Date with Close Pals.
When was the last time you phoned your friends for dinner? Why not schedule some time to meet up at a local diner? Marriages sometimes need another perspective and Godly friends have good intentions. Iron sharpens iron and you gain their insight on important heart matters. It's also great for catching up on life, the kids, and reminiscing on fun times, especially if your friendships are over ten years old.
An excellent wife, who can find? She is far more precious than jewels... Proverbs 31:10
7. Drop in and Dance!
Slip on your dancing shoes and attend a couple's dance class. The newest choices include mambo salsa at the classic Arthur Murray ballroom studio. Gaze into your spouse's eyes and burn those calories! Turns and shimmies release endorphins and any physical movement is a great way to address those "love" handles! Check out Arthur Murray's Dance Centers nationwide.
8. Return to the Place You First Met.
Venture out to the city where your love affair first began. Notice how the architectural landscape has changed. New and stylish eateries are popping up everywhere. Many first dates began at Russ & Daughters Cafe --a well-known eatery in Manhattan. Make it a priority to discuss what's good in your relationship and where you can both improve. It's never too late to jot down plans and aspirations with your spouse.
Rejoice in the wife of your youth, Proverbs 5:18
9. Volunteer Your Time Together.
Many local charities have volunteer slots available where couples can donate time and serve the marginalized populations. You can make and serve soup with local churches. Read or tutor at library. Some inner-city missions trips include painting apartments and beautifying the area. Some assisted living facilities hope to recruit people with artistic skills who don't mind giving of themselves. Christ was a light to the downtrodden. Helping others together is one way of spreading the heart of God.
So, as those who have been chosen of God, holy and beloved, put on a heart of compassion, kindness, humility, gentleness and patience. - Colossians 3:12
10. Share Her Bouquet and Bless Someone New
Every woman loves fresh, fragrant flowers. I'm a sucker for Dahlias and Tiger Lillies. But this is different, this action of love blesses two people. Allow your wife to enjoy a bouquet of flowers for a day. Here's the challenge: convince her of the importance of blessing others. Re-gift a random stranger on the street or even a neighbor! Notice the expression of joy and surprise? That's two blessings for the price of one! And we all know that our God LOVES a cheerful giver.
Now as to the love of the brethren, you have no need for anyone to write to you, for you yourselves are taught by God to love one another. - I Thessalonians 4:9
Related: Take our Valentine's Day Mini-Survey!
_____
Jessica Galán encourages her readers to embrace malleability in the midst of life's difficult moments. She spends her day teaching amazing students from diverse backgrounds in Fairfield County, Connecticut. She's wife to a super-creative man and the proud mother of three resilient young women. She's served as a writing facilitator for Lysa TerKeurst through COMPEL Training. She enjoys daily cups of steaming hot café con leche and breaks out in sporadic salsa dancing when no one's looking.