Blood Donors Needed!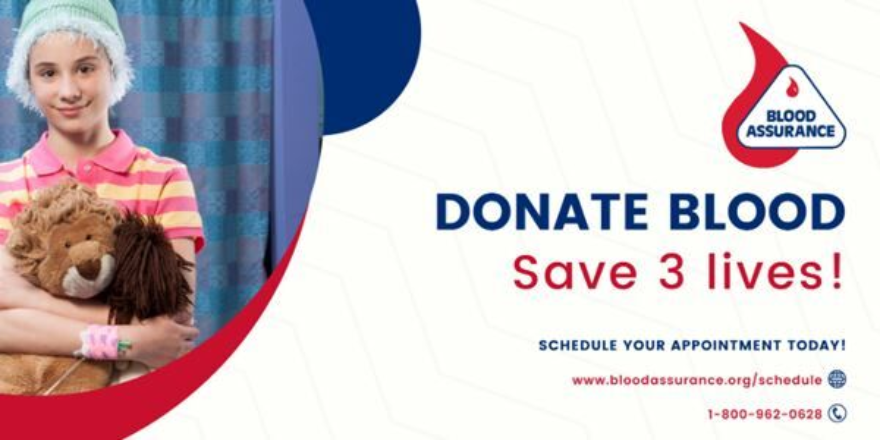 Every 2 seconds someone in the United States needs blood. Donating blood typically takes less than an hour and helps your local community! Blood Assurance has donation centers and blood drives in your neighborhood. When you donate with Blood Assurance, your donation could help a neighbor, friend or loved one in need. Find out where to donate and sign up here!

Blood Assurance is now serving more Nashville hospitals including the TriStar System. We have been serving Tennessee patients since 1972 and are proud to say our blood stays in our region.
Find a Blood Assurance drive that's convenient for you and register by searching
HERE
September Blood Drive:
Margaret Maddox Family YMCA
Friday, September 01, 2023
07:00 am - 12:00 pm
2624 Gallatin Pike
Nashville, TN 37216
Bloodmobile
Walker Chevrolet
Tuesday, September 05, 2023
10:00 am - 02:00 pm
3940 Carothers Pkwy
Franklin, TN 37067
Bloodmobile
Donelson-Hermitage Family YMCA
Wednesday, September 06, 2023
03:00 pm - 08:00 pm
3001 Lebanon Pike
Nashville, TN 37214
Bloodmobile
Columbia State Community College - Williamson Campus
Wednesday, September 06, 2023
10:00 am - 03:00pm
1228 Liberty Pike
Franklin, TN 37067
Student Activity Room-104
GodWhy Church
Sunday, September 10, 2023
09:00 am - 01:00 pm
100 GodWhy Ct.
Hendersonville, TN 37075
bloodmobile
Big G Express Mt. Juliet
Friday, September 15, 2023
10:00 am - 03:00 pm
193 Aldi Boulevard
Mount Juliet, TN 37122
bloodmobile
Bone & Joint Institute & Williamson Medical Center
Tuesday, September 26, 2023
12:00 pm - 05:00 pm
3000 Edward Curd Lane
Franklin, TN 37067
bloodmobile
Welch College
Wednesday, September 27, 2023
10:00 am - 03:00 pm
1045 Bison Trail
Gallatin, TN 37066
Student Center
bloodassurance.org/welchcollege