What Does She Have That I Don't?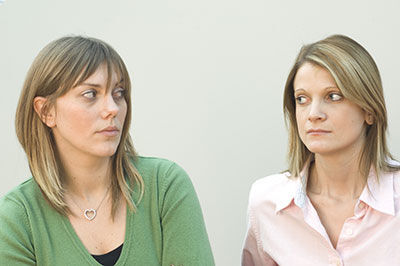 By Jennifer Maggio, The Life of a Single Mom
You woke up this morning in a great mood. Everything seems to be going your way. Those new shoes you bought this past weekend have added a little bounce in your step. You are convinced your jeans make you look ten pounds lighter today. Your hair is doing just what you want it to, finally. You're feeling confident.
And then, it happens - whatever it is. Maybe you notice that your waitress at lunch is gorgeous. She's thinner than you. Suddenly, those jeans that made you look ten pounds thinner, you now hate. Maybe there's a new girl at work who is receiving countless accolades, and you've been doing your job well for five years without so much as a thank you. Or maybe you have been super-grateful for your 1992 Honda Civic, until a tall, blond chick rolls up next to you at the red light in her 2014 Mercedes.
What does she have that I don't? Rarely would any of us say that aloud, but we have surely all thought it. We are in constant comparison of what someone else has and what we don't. Comparison is a joy-stealer. It's a bottomless pit of self-doubt and self-deprecation. Comparison is coveting, and it replaces gratitude. It allows us to turn our thoughts selfishly inward. I wish I had her body, her job, her life, her husband. The truth is when we struggle with comparing our lives to others, her life, her job, and her husband would still never be enough. The grass would always be greener somewhere else.
If you find yourself in that pit, here's some Biblical wisdom on how to handle it:
1. Pay careful attention to your own work, for then you will get the satisfaction of a job well done and you won't need to compare yourself to anyone else. For we are each responsible for our own conduct. Galatians 6:4-5
In other words, do what God has called you to do. Run your race. Stay on your path. Focus on doing your thing well rather than focusing on where someone else's path is taking them.
2. Whatever happens, my dear brothers and sisters, rejoice in the Lord. I never get tired of telling you these things, and I do it to safeguard your faith. Philippians 3:1
Genuinely rejoice with others when they get blessed. When your friend gets married, be thankful for her new spouse that you know she prayed for, rather than focusing on your own loneliness. When a neighbor gets a new car, rejoice with them. Be excited when you see God move in someone's life. He has great plans for you, too. It may look different. It may be on a different timeline. But the plans are great, nonetheless.
3. I have learned to be content with whatever I have. I know how to live on almost nothing or with everything. I have learned the secret of living in every situation, whether it is with a full stomach or empty, with plenty or little. Philipppians 4:11-12
Learn to be thankful for what God has put in our hands, not what we think we should have. Trust that God has our best interest at heart. He knew us before we were ever born. He chose us. He loves us.
Comparison causes division. It causes us to dislike the pretty waitress serving us, the new girl at work, and the Mercedes-owner. We all have our own crosses to bear. We all have triumphs and defeats, joys and heartaches. Don't secretly wish for her life. Be filled with gratitude for your own.
---

Jennifer Maggio is considered a leading authority on single parents and womens issues. She is an award-winning author and speaker who draws from her own experiences through abuse, homelessness, and teen pregnancy to inspire audiences everywhere. She is founder of The Life of a Single Mom Ministries and writes for dozens of publications. She has been featured with hundreds of media outlets, including The 700 Club, Daystar Television, Moody Radio, Focus on the Family, and many more. For more information, visit thelifeofasinglemom.com.
Jennifer Maggio is an award-winning author and speaker who has a passion to see the body of Christ live life in total freedom. She is founder of The Life of a Single Mom Ministries and Overwhelmed: The Single Moms Magazine. She has been featured in hundreds of media venues. For more information, visit http://www.jennifermaggio.com.
Page Source (url): http://www.crosswalk.com/blogs/jennifer-maggio/what-does-she-have-that-i-dont.html