Integrity Music Re-Signs Worship Leader Lincoln Brewster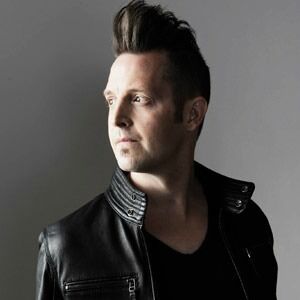 Integrity Music announces the re-signing of trailblazing worship leader Lincoln Brewster, building on a 15-year relationship with the California-based musician who helped put a rock spin on modern worship while introducing the genre to contemporary Christian radio.
"I am honored to announce that after 15 years, Integrity Music will continue to serve as the music partner for Lincoln Brewster and his ministry going forward," said C. Ryan Dunham, President of Integrity Music. "I have had the privilege of getting to know Lincoln and his wife Laura on a personal level and love their heart, their passion for serving and their dedication to their local church. It is a privilege to come alongside an artist like Lincoln, who has such incredible talent that he is choosing to use for God's glory."
Originally signed to the label in the late 90s, Integrity released Brewster's first album, a self-titled debut in 1999 when modern worship music comprised only a small niche within Christian music before becoming the top-selling genre that it is today. Eight albums later, Brewster has made an indelible impact on modern worship, opening doors at Christian radio for other worship artists with his singles "Everlasting God," "Let The Praises Ring," "Love The Lord," "Today Is The Day," "Salvation Is Here," "The Power Of Your Name" and more.
"In 1999, the only worship singles that were getting any significant airplay on Christian radio were songs from the debut SONICFLOOd project and Lincoln Brewster," says acclaimed radio consultant Chris Hauser.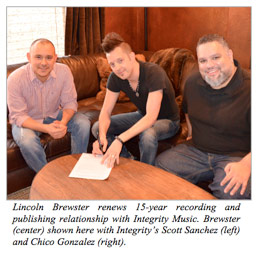 "I can distinctly remember getting adds for "Take Me Higher," "The Power of Your Name" (with Jars of Clay's Dan Haseltine) and even "Lord I Lift Your Name on High," he continues. "These songs were taking root on radio playlists, opening doors for Lincoln as a 'sure thing' for great corporate, vertical songs that fit on radio while also paving the way for Chris Tomlin, Hillsong, the Passion movement records and many others."
Looking ahead to August, Brewster and Integrity are preparing for a global release of his new album, Oxygen, which is co-produced by Brewster and Colby Wedgeworth and features all new songs penned by Brewster including the project's first radio single, "Made New."
"Lincoln is a renowned guitarist, songwriter, artist and worship leader who has produced many great albums and songs," adds Dunham. "But with this new album, Oxygen, people are going to experience a whole new Lincoln Brewster. It's a new sound with a nod to the past and a bold step forward… I believe it is his best album yet."
Music has been an integral part of Lincoln Brewster's life since early childhood when he would "sit in" on rehearsals with his mother as she played with local bands in their hometown of Homer, Alaska. By age five, Brewster was playing the mandolin and by age nine, he had picked up the electric guitar. That love for music took him down a winding road that included a season playing for rocker Steve Perry (Journey) and recording offers from mainstream labels all before he was 21. But Brewster, who had made a commitment to Christ in his late teens, walked away from the promise of rock stardom and instead took a position at his local church as a sound technician.
Years later, Brewster is again playing before thousands, this time leading people in worship at music festivals and concerts across the U.S., and at Bayside Church near Sacramento, California, where he serves as Worship Arts Pastor. Brewster's recordings include the albums Real Life, Joy To The World, Today Is The Day, Let The Praises Ring, All To You and Amazed.